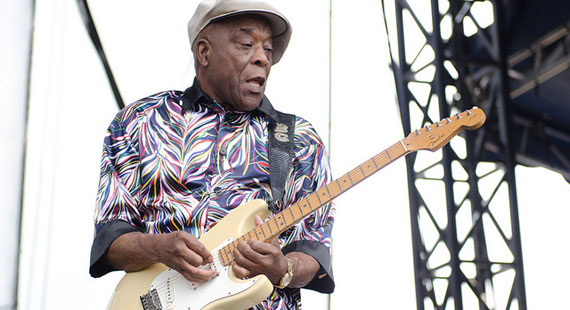 Mark Runyon | ConcertTour.org
Buddy Guy 'Rhythm & Blues' Album Review

Buddy Guy may not move as vigorously on-stage as Mick Jagger, another music legend in his 70s, but his musical output continues to mesmerize audiences in similar form. One of the greatest guitarists of all time, Guy has been releasing cult blues records since the '60s, later integrating elements of rock 'n' roll that helped give Guy one of the most invigorating and technically inclined sounds of the past several decades. Guy was regarded as a venerated journeyman for several decades before breaking out to the mainstream in the '90s with records like Damn Right, I've Got the Blues and several acclaimed live releases. His new-found recognition spread throughout the '00s and into today, where Guy continues to perform to sold-out audiences and hot fanfare. Like Bob Dylan and folk music, Guy is a living museum piece of blues music. To watch him perform is to experience history. Despite this status, he does so much more than serving as a museum piece. His live performances remain riveting, and his new records continue to entertain, like his most recent Rhythm & Blues, his 27th studio album.
Rhythm & Blues is tidily packaged between two discs, consisting of 21 songs altogether. The first disc is the "Rhythm" section, with thrilling soul-oriented tracks that featured shrill organs, roaring guitar solos, and background harmonizing female vocals. Guy's wailing guitars – both solos and rhythmic accompaniments – are the constant throughout Rhythm & Blues, whose second half pursues Guy's more traditional bluesy arrangements. One of the most memorable aspects of Guy's sound is his willingness to scatter auto-biographical tidbits throughout his songs, and on the thrilling opener "Best in Town" he continues this trend. "When I first heard Muddy Waters, I knew I was Chicago bound," he sings over new flourishes of brass. "Start playing on the South Side and this is what I found." It's a rousing opener that sets a jovial mood for the 20 tracks that follow. The sly "What's Up with That Woman" is another rousing gem, a prime example of Guy's ability to interweave rhythm and blues clichés despite a fervent sound. The squealing guitar solos, rollicking brass accompaniments, and howling vocals are all there, and although it becomes hard to differentiate tracks on the first half due to similar formulas, the first half of Rhythm & Blues is an enjoyably lively one.
Buddy Guy has been increasingly open to multi-stylistic collaborations as the years have progressed, and Rhythm & Blues features several high-profile ones. "Evil Twin", a collaboration with Aerosmith's Steven Tyler and Joe Perry, manages to combine Tyler's hard-rock aesthetics with Guy's smooth bluesy stylings. Surprisingly, it shows one of Guy's best vocal performances on the album, over a smooth piano line that meshes New Orleans jazz with Chicago blues. The Keith Urban collaboration, "One Day Away", is pleasant to the ears, but the duet vocal style seems to restrain the vocal performances of both. The instrumental arrangements play it safe, and it serves as the weakest collaboration on the album. "Messin' with the Kid", featuring Kid Rock, at least possesses the energy and fervor of Guy's most explosive tracks, and the reflective female vocal accompaniments in the background serve as a nice intermediary to Guy's smoothness and Kid Rock's raspy intensity. The Aerosmith and Kid Rock collaborations are both surprisingly effective, despite some forced inclinations.
While Rhythm & Blues will feel relatively aimless and sprawling to some, especially with 21 tracks that use several clichés of rhythm and blues, there is little doubt that Guy has added another lively release to his legendary discography. He has made the styles encountered on both discs – rhythm and blues – extremely accessible to even fair-weather fans, made possible due to successful mainstream collaborations and a tendency for blues-addled hooks and thunderous instrumental accompaniments. Rhythm & Blues occasionally has moments that drag, but there are no truly distracting weak spots on an album that reinforces Buddy Guy's legacy as one of the best blues guitarist to ever live.