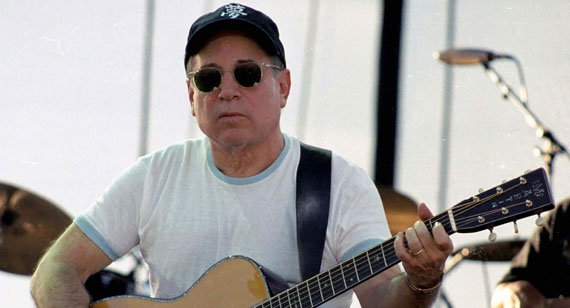 Dana Nalbandian | Shutterstock
Bruce Springsteen, Paul Simon Headline London's Hard Rock Calling
Bruce Springsteen and Paul Simon have been announced as two of the headliners at this year's Hard Rock Calling Festival in London's Hyde Park. Train and Lady Antebellum also have been announced as performers at the festival.
Springsteen will perform with the E Street Band on Saturday, July 14 and Simon will headline the follow night. Since 2009, the festival has been held over three nights, Friday through Sunday. The official website for the event states that "all other headliners and support artists will be announced in due course."
Simon is celebrating the 25th anniversary of his original tour for Graceland, one of the best known album's of his solo career. The performance this year will return Simon to the setting of one of his most controversial concerts.
On April 7, 1987, Simon performed at Hyde Park on the Graceland tour along with several high profile South African musicians, who also played on the album that was recorded in South Africa. These included Hugh Masekela and Ladysmith Black Mambazo. But the shows were protested by a number of British musicians that claimed Simon broke the ANC cultural boycott of the then apartheid-era South Africa.
Musicians including Billy Bragg and Paul Weller wrote a note asking Simon to apologize for the concert.
This time around, Simon will once again be joined by South African musicians including Ladysmith Black Mambazo. Hugh Masekela, however, will not be appearing. Jamaican star Jimmy Cliff will take the stage with Simon.
Other than the concert, Simon also is marking the 25th anniversary in other ways. In addition to new editions of the album, he also will premiere Joe Berlinger's documentary about the album, "Paul Simon: Under African Skies."
Graceland is the most successful solo album of Simon's solo career to date, selling 14 million copies around the world and winning two Grammy Awards.