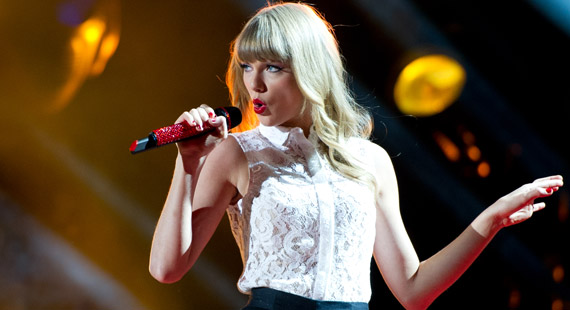 Helga Esteb | Shutterstock
Bronchitis Sidelines Taylor Swift from Atlanta, Louisville, Charlotte
Taylor Swift, for the very first time since rising to the top of the country-pop music world, has had to go to the sidelines due to sickness. Swift has announced that four concerts will have to be canceled off her current tour due to bronchitis. According to Paula Erickson, Swift's spokeswoman, this is the first time the 21 year singer, who is one of the top-selling songwriter-singers in the U.S., has had to cancel or postpone a show due to illness.
On June 25 Swift started to get sick after she performed in a hard rain at Gillette Stadium outside of Boston during her sold-out show. Six days later she apologized to her fans in Knoxville for her hoarseness. The singer had to pull out of her Louisville, KY show scheduled for the next day. Swift has now announced she has been informed by her doctors that she can not perform in Charlotte, N.C. for three shows or in Atlanta this weekend. In a statement Swift said, if I were able to physically perform those shows I wouldn't cancel.
Taylor Swift's schedule since February has been grueling. The tour involves 98 shows in a total of 17 different countries in support of "Speak Now," her new, chart-topping album released in October. Since the beginning of the tour, Swift has performed 36 shows and traveled throughout Europe and Southeast Asia. In late May she returned to the U.S.
According to Erickson, Taylor is convalescing in her Nashville home and is hoping to return on July 14 where she is scheduled to perform in Montreal at Bell Center.