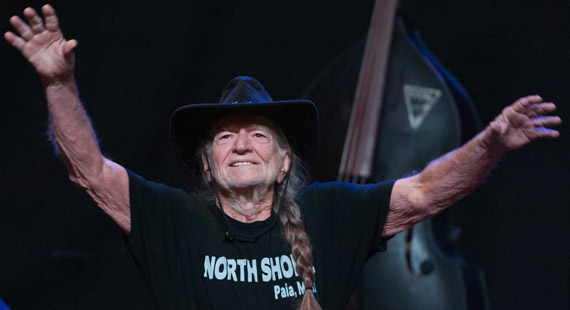 Mark Runyon | ConcertTour.org
Breathing Problems Force Willie Nelson to Cancel Denver Performance
Willie Nelson was forced to cancel a Denver concert over the weekend after being hospitalized for a breathing problem. Fortunately, the 79-year-old country singer's publicist says that Nelson is doing "fine" and that the rest of his current tour will continue as scheduled.
"Willie's fine. His shows are gonna continue," his representative, Elaine Shock, told E! News. "(The Denver concert) was the only one that was cancelled. He's actually on the road to his next gig."
Nelson was scheduled to play a benefit concert for the Dumb Friends League in Castle Pines Village, which is about 21 miles north of Denver. An organizer of that event, which was held at a private home, told the Denver Post that Nelson "woke up and had trouble breathing, so he was taken to the hospital." The NBC affiliate in Denver reported that the breathing problems were a result of "high altitude and emphysema."
Shock would not confirm if Nelson was actually taken to the hospital, though she did say that the problems were "high altitude-related."
This is not the first time Nelson has had to cancel concerts due to a breathing problem. Back in 1981, the singer was hospitalized in Maui, Hawaii after suffering a collapsed lung while swimming during a family vacation, according to the New York Times. That injury forced Nelson to cancel 18 concerts.
Nelson's next scheduled show is tomorrow (Tuesday August 21) at the House of Blues Dallas. He is then scheduled to stay on the road through November 15 when he will play ACL Live: Moody Theater in Austin, Texas.
In between now and then, Nelson will play the annual Farm Aid event along with Dave Matthews, Neil Young and Jack Johnson on September 22. He also will head out on the second annual Railroad Revival tour, where he'll tour the country by rail. That tour also includes Band of Horses.