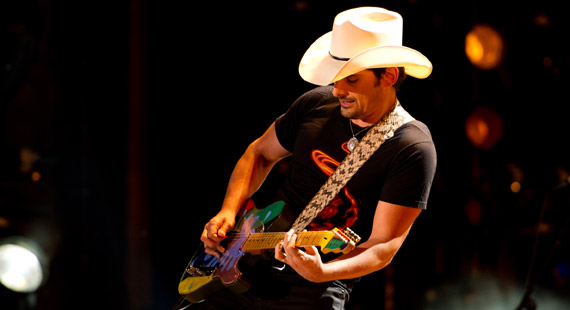 Mark Runyon | ConcertTour.org
Brad Paisley Summer Tour Expands to Canada, Midwest
Brad Paisley's not looking to take time off anytime soon, as he's just extended his Beat This Summer tour, which looks to be especially exciting for his Canadian fans.
The tour kicks off in Hamilton, Ontario on October 17th, and looks exactly like this:
>10/17 –  Hamilton, Ontario, Canada – Copps Coliseum
>10/18 – Ottawa, Ontario, Canada – Canadian Tire Centre
>10/19 – London, Ontario, Canada – Budweiser Gardens
>10/23 – Winnipeg, Manitoba, Canada – MTS Centre
>10/24 – Regina, Saskatchewan, Canada – Brandt Centre
>10/25 – Calgary, Alberta, Canada – Scotiabank Saddledome
>10/26 – Edmonton, Alberta, Canada – Rexall Place
>11/14 – Omaha, Neb. – CenturyLink Center
>11/15 – Rockford, Ill. – BMO Harris Bank Center
>11/16 – St. Paul, Minn. – Xcel Energy Center
>11/21 – Springfield, Ill. – Prairie Capitol Conv. Center
>11/23 – Detroit, Mich. – The Palace at Auburn Hills
The tour is in support of Paisley's latest album, Wheelhouse, which was released earlier this year, and will feature support from special guests, Chris Young and Lee Brice. Brice and earlier tour supporters, the Henningsens, famously pranked Paisley during an earlier leg of the tour, dressing up as Star Wars characters, and sharks (obviously), among other things, crashing the stage. Paisley's Canadian fans can only dream about how the fall leg support acts are gonna top that one. Regardless, it should be a spectacle to behold.
Brad Paisley will get to take a mini-reprieve from touring on November 6th, when the country star is set to co-host the CMA awards with Carrie Underwood for what seems like the millionth time, and recently started recording his film I Can't Change the World, an awareness-raising companion project to draw attention to clean water issues in Haiti. Whether or not he's a workaholic: Paisley, you're a hero.