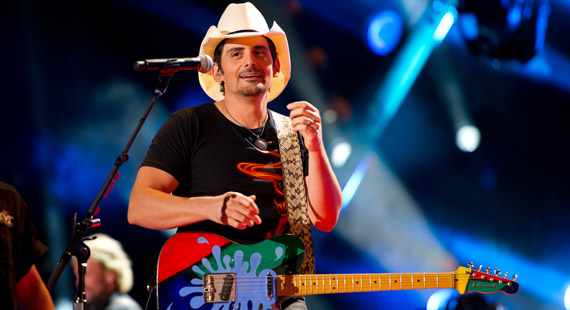 Mark Runyon | ConcertTour.org
Brad Paisley, Dierks Bentley Headline Nashville Flood Anniversary Concert
Luke Bryan, Dierks Bentley and Brad Paisley will all be participating in "Party On, Nashville," which will take place one year after last May's catastrophic flooding in the Nashville area. Not only were people houses and businesses (including the Grand Ole Opry) wiped out, but also tourism took a big hit, which is the city's most important financial generator.
A concert will be held on May 3 at Grand Ole Opry as a benefit for area charities. They include the American Red Cross Nashville branch, Middle Tennessee's United Way and Hands On Nashville. For each ticket sold, $10 will be going to benefit these organizations.
Bentley said, I can't believe it has been one year since the flooding. Nashville, our country music community and the Opry were so resilient. We came together and rebuilt so quickly following the devastation. I'm so proud being a member of the Opry. I look forward to once again celebrating the sense of community.
Early on, Paisley filmed the clean-up efforts of the Opry's. The Opry saved many of their historic artifacts, which included the center stage's original, age-old circle of wood. It was restored and cleaned and just a couple months later placed into the new stage.