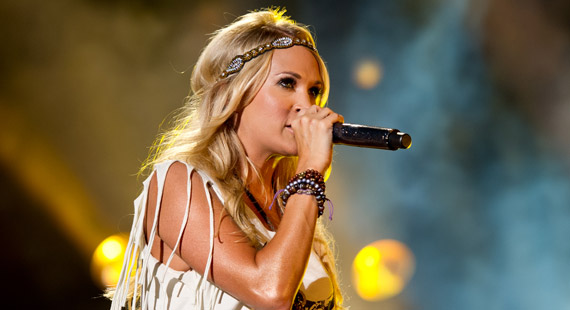 Mark Runyon | ConcertTour.org
Brad Paisley, Carrie Underwood to Host CMA Awards for Fourth Time
It seems like the Country Music Association can't get enough of Brad Paisley and Carrie Underwood as they have been asked to hold hosting duties for the fourth time for the association's 45th annual awards show, to be held on November 9 at the Bridgestone Arena in Nashville.
The two singers shared the news to their fans via various social networking sites, straight from the set of their new music video, 'Remind Me'.
"We wanted to take a minute to share some very exciting news…The CMA has asked Brad and me back to host the CMA Awards in November," Underwood said in an online video posted on YouTube. On the other hand, Paisley tweeted, "Can you believe that? I can't wait to do it again," accompanying his 140-character-long expression of flattery and eagerness with a photo of the beach where the music video was being shot.
CMA head Steve Moore explained the choice to re-hire the two country superstars as hosts for this year's awards. He said that both "have the unique qualities of humor, talent, credibility and natural rapport that makes them a hit with fans and the industry audience."
Among the honors being vied by the genre's finest and top-selling artists of the past year are Male and Female Vocalist of the Year, Group of the Year, Musician of the Year, New Artist of the Year, Music Video of the Year, Single and Song of the Year, Vocal Duo of the Year, Musical Event of the Year, and the much coveted Entertainer of the Year, which Brad Paisley won in 2010.
The 2011 CMA Awards will be aired live by ABC-TV.