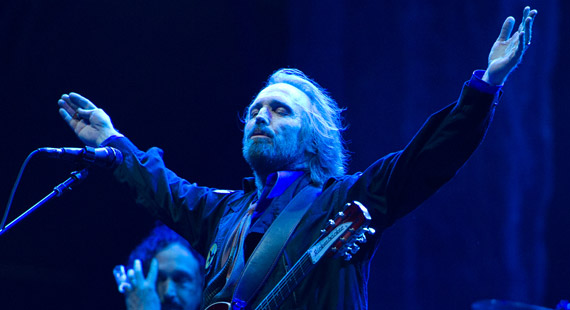 Mark Runyon | ConcertTour.org
Bonnaroo 2013 is Stacked: Paul McCartney, Tom Petty, Mumford & Sons, Bjork
There are tons of great festivals around the U.S. with spectacular lineups, but for the past few years, there have been two that really stand out as the top draws: Coachella and Bonnaroo. The latter has just released its anticipated 2013 lineup, which does not disappoint with Paul McCartney, Tom Petty, Bjork, Mumford & Sons representing just the tip of the rock iceberg that will be the festival this year.
So who else will take the stage in Manchester, Tennessee on June 13-16? For starters, Wilco, R. Kelly, The Lumineers, Kendrick Lamar and Wu-Tang Clan alone likely could be the headliners at most festivals, but are relegated to the second paragraph for Bonnaroo.
There's still more, of course. Some of these additional artists include The National Collective, Of Monsters and Men, David Byrne & St. Vincent, Passion Pit, Nas, The xx, Cat Power, Dwight Yoakam, Matt & Kim, Dirty Projectors, Beach House, the Gaslight Anthem and something called a "Soul Superjam" that will feature Jim James, John Oates, Zigaboo Modeliste and the Preservation Hall Jazz Band, with even more to be announced later.
As per usual, the festival will also feature a comedy lineup in addition to the music artists. Daniel Tosh will headline among the comedians, and Mike Birbiglia will perform as well. Others will be announced later.
"Top to bottom, this is one of the strongest lineups we have ever had," said Bonnaroo spokesman Jeff Cuellar in an interview with Reuters. "Looking at the festival landscape out there… no other American festival has Mumford & Sons, Paul McCartney and Bjork all under one roof."
McCartney has been relatively active lately, though his performance will mark a rare U.S. festival appearance by the former Beatle, his last coming at Coachella in 2009. Last year, he released the oddly named collection of standards, Kisses on the Bottom, and in December 2012 he performed with the surviving members of Nirvana at a benefit concert for Sandy Relief.