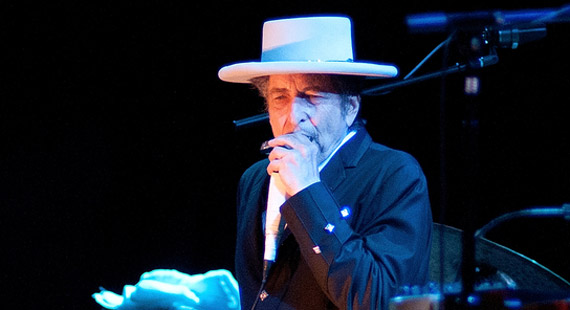 Christian Bertrand / Shutterstock.com
Bob Dylan Schedules 2012 North American Tour
Never Ending Tour, indeed. Bob Dylan has announced new tour dates for this fall, and this time he'll be joined on the road by Mark Knopfler.
The newly announced dates will kick off August 10 in Lloydminster, Alberta, Canada at the Exhibition Grounds, and the tour is scheduled to run through September 1 when the two perform a show at Tag's Summer Stage in Big Flats, N.Y. In between those dates, the pair will visit cities including Missoula, Mo.; Sioux Falls, S.D.; Fargo, N.D.; Indianapolis and Johnstown, Penn.
Both singer-songwriters will be promoting new solo albums with the tour. Knopfler's will be called Privateering, and is scheduled to be released on September 3 of this year. Knopfler is best known as the singer and primary songwriter for the British band Dire Straits. The band had a string of hits in the late 1970s and early 1980s, including "Money for Nothing," "Sultans of Swing," "Walk of Life" and "So Far Away." Knopfler launched his solo career after disbanding the group in 1995. He has since released six solo albums.
Bob Dylan just turned 71, but that hasn't seemed to slow him down any. He recently announced that he will release his 35th studio album later this year, though no official release date or album title has yet been released. The album will Dylan's first newly recorded collection of original songs since 2009's Together Through Life.
Early reports reveal that there will a 14-minute long song on the album concerning the Titantic. Dylan worked on the album with Los Lobos' David Hidalgo, who also worked on Together Through Life.
"It was a great experience – and different," Hidalgo said of the experience. "Each one has been different, all completely different approaches. It's an amazing thing, how he keeps creativity. I don't see how he does it."
Dylan has been performing on the so-called "Never Ending Tour" since June 1988, and he maintains a heavy touring schedule. He also will tour Europe this summer.