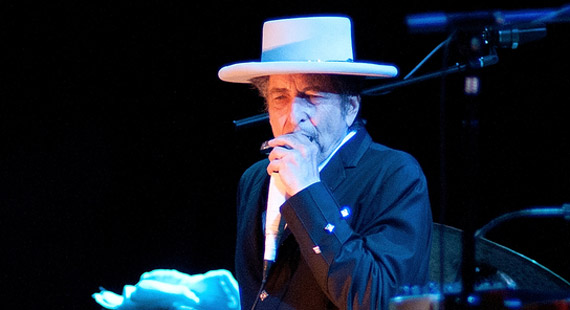 Christian Bertrand / Shutterstock
Bob Dylan Books Fall Tour Dates
To date legendary singer Bob Dylan has spent a majority of 2010 overseas. However in August, he will be returning home to play his typically busy U.S. slate of shows.
On July 4, Dylan will wrap his current European outing up with a show in Limerick, Ireland. His U.S. outing will kick off in Austin, TX on August 4. Currently, there is approximately a month's worth of shows that have been confirmed. Many more are expected to be added.
The U.S. tour stops for Dylan included a gig on August 18 with John Mellencamp in Las Vegas at Caesars Palace's the Colosseum. The venue was constructed for the long-running Celine Dion Las Vegas production.
Last year, Dylan released two sets. "Together Through Life" was released in April. "Christmas in the Heart," his holiday album, was released in April.
2010 Bob Dylan Concert Tour
June 2010
23 – Marseille, France – Le Dome de Marseille
24 – Barcelona, Spain – Poble Espanyol
26 – Vitoria, Spain – Azkena Rock Festival
28 – Carcassonne, France – Antique Theatre
29 – Bordeaux, France – Patinoire Meriadeck
July 2010
1 – Nantes, France – Zenith Nantes Metropole
3 – Tonbridge, United Kingdom – Hop Farm Festival
4 – Limerick, Ireland – Thomond Park Stadium
August 2010
4 – Austin, TX – The Backyard
6 – Oklahoma City, OK – Zoo Amphitheatre
7 – Kansas City, MO – Starlight Theatre
8 – Lincoln, NE – Haymarket Park
10 – Sturgis, SD – Buffalo Chip Campground
11 – Billings, MT – Dehler Park
12 – Casper, WY – Mike Lansing Field
14 – Jackson, WY – Snow King Resort
15 – Boise, ID – Idaho Botanical Gardens
17 – Park City, UT – Deer Valley Resort
18 – Las Vegas, NV – Colosseum at Caesars Palace
19 – Ontario, CA – Citizens Business Bank Arena
21 – Monterey, CA – Monterey Fairgrounds
22 – Lake Tahoe, NV – Harveys Lake Tahoe Outdoor Arena
September 2010
4 – Seattle, WA – Memorial Stadium (Bumbershoot)