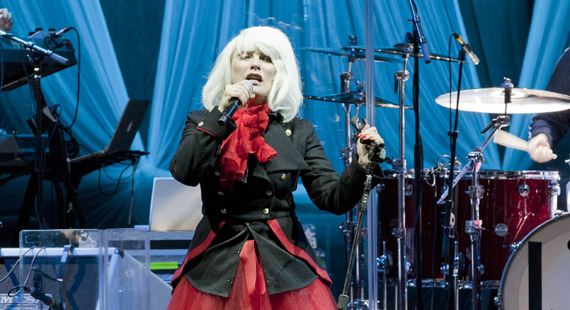 Glynnis Jones / Shutterstock
Blondie Teams with X For Fall Concert Tour
Blondie and X will head out on the road together in North America this fall.
The two groups will kick off the "No Principals Tour" at the Hampton Beach Casino Ballroom in Hampton Beach, New Hampshire on September 5, and the tour will continue for nearly a month, ending with a concert at the Roseland Ballroom in New York October 4. Other cities the tour will hit include Atlantic City, Cincinnati, Chicago, San Francisco, Santa Fe, Houston, Dallas, Nashville and Atlanta.
Deborah Harry & Co. will use the trip to celebrate the upcoming release of an upcoming new album that is set to be released this fall. Though the official release date and album title have yet to be revealed, fans that purchase tickets to the upcoming shows will receive five songs that will be included on the album. Those five songs are "Make A Way," "Drag You Around," "Can't Stop Wanting," "A Rose By Any Name" and "I Screwed Up."
The new album will be the 10th overall studio album from Blondie, and the first since 2011's Panic of Girls. The tour and album also will serve as a prelude to the band's 40th anniversary, which is coming up in 2014. The band hasn't yet revealed if they plan to continue touring and/or do anything special to mark the occasion.
X will be touring with its original lineup of John Doe, Exene Cervenka, Billy Zoom and D.J. Bonebrake. Though they don't have any new original music coming out, the legendary band will release a four-LP Limited Edition Collectors Box Set on September 3. The set includes reissues of the group's first four albums: Los Angeles, Wild Gift, Under the Big Black Sun and More Fun in the New World. The set also features a forward by the late Ray Manzarek.