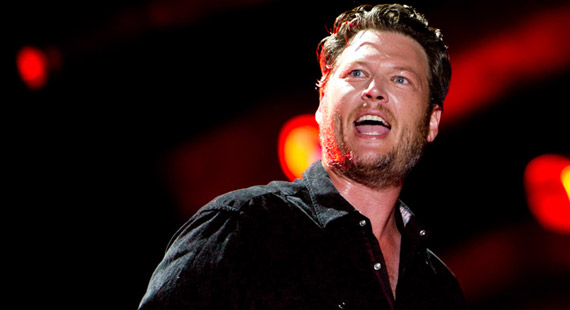 Mark Runyon | ConcertTour.org
Blake Shelton Plots Summer Tour with Easton Corbin, Jana Kramer
With his gig as a coach on "The Voice," Blake Shelton hasn't been able to get much touring in recently, but he's going to change that with an extensive tour beginning this summer.
Dubbed the "Ten Times Crazier Tour," the trek will begin at the Farm Bureau Live at Virginia Beach on July 19 in Virginia Beach, Virginia, and is set to keep the country singer on the road through a show at the INTRUST Bank Arena in Wichita, Kansas on October 5. In between those dates, Shelton will stay exclusively on the right half of the U.S., visiting St. Louis; Cincinnati; Raleigh, North Carolina; Atlanta; Tampa; Holmdel, New Jersey; St. Paul, Minnesota; Charleston, West Virginia; Knoxville, Tennessee and Tulsa, Oklahoma, among others.
Easton Corbin and Jana Kramer will be along for the ride with the star as supporting acts.
"My fans, country radio, friends, family you name it – they know I love to perform," Shelton said, according to TheBoot.com. "With 'The Voice' schedule, I was not able to go out and perform as much as I wanted last year but I plan to make up for it this year. This summer is going to be a blast. I want everyone at my shows to leave feeling like they got every penny's worth of their ticket. I am going to give them every ounce of me on that stage because they deserve it. My fans are die hard country fans, they love to laugh and have a good time and I'm going to join them in what truly will be the Ten Times Crazier Tour."
Season 4 of "The Voice" is currently filming, but with the tour dates stretching all the way into October, it would seem that Shelton may not be planning on appearing on the fall of 2013, if that is when it returns. No official word has yet come from Shelton or NBC about Season 5, however.