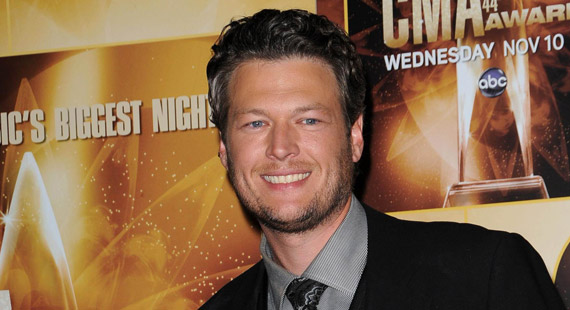 Blake Shelton Big Winner at CMA Awards
Blake Shelton took home his first "Entertainer of the Year" honor from the 46th Annual Country Music Association Awards last night. He was the big winner of the night, and took home two other trophies, as well.
One of those other two awards is shared with his wife Miranda Lambert. The pair took home Song of the Year honors for "Over You," a song they wrote about the death of Shelton's brother Richie in a car wreck around 15 years ago.
"For me as a songwriter that is as personal as I can get," Shelton said, according to the Associated Press. "So that songwriter award, song of the year award, it will have its own shelf. It will have spotlights on it and an alarm and everything. Trip wires and there will be a land mine if you walk towards it. It is a real big deal to Miranda and I."
Shelton's third award was for Male Vocalist of the Year, while Lambert won Female Vocalist of the Year. Each award is the third win in a row for each.
Other big news from the performance was that four artists took home their very first CMA Awards: Eric Church, Little Big Town, Hunter Hayes and Thompson Square.
Hosts Brad Paisley and Carrie Underwood kept things light most of the night, poking fun at Taylor Swift's romance with Conor Kennedy, making Maroon 5's "Moves Like Jagger" into a parody version called "Moves Like Haggard" and performing a version of PSY's "Gangham Style." The pair did, however, get serious when they urged viewers to give to the Red Cross as part of the Hurricane Sandy relief effort.
Of course there were notable performances throughout the night, and Jason Aldean kicked things off with a version of his song "Only Way I Know." He was joined on stage by Luke Bryan and Eric Church for the performance.