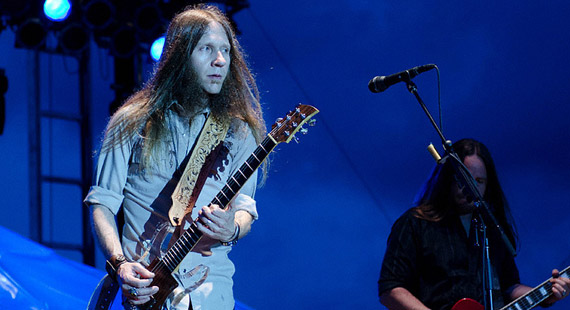 Mark Runyon | ConcertTour.org
Blackberry Smoke Warm Up 2014 with Fire in the Hole Tour
Blackberry Smoke have announced their forthcoming US winter tour that will take flight early in 2014.
The ominously so-called "Fire in the Hole" tour (not to be confused with the hemorrhoid cream from Two and a Half Men) is scheduled for take off on January 10th at Ft. Lauderdale's Florida's Revolution, and will see the band make stops "spanning the entire US", according to the band's website. They will play shows in Indianapolis, Detroit, Chicago, Boston, Philadelphia, New York, Las Vegas, among other places, before wrapping everything up with a country rock bow at Spokane, Washington's Knitting Factory on April 19th.
Blackberry Smoke have been making a name for themselves supporting headlining acts like Zac Brown Band, ZZ Top and Lynyrd Skynyrd. On August 26th, 2012, they performed at a charity benefit called the Boot Ride with the cast of "Sons of Anarchy", which must have been a savage affair. They also released their most recent album, The Whippoorwill, which peaked at number 8 on the US country chart.
According to a statement on the band's website, their latest effort was preceded by literal sleepless nights:
"I remember not being able to sleep well at night when we were making this new album," lead singer Charlie Starr recalls. "I was so excited about which songs we were going to cut the next day. After it's done and we can hold it in our hands and be proud of it we know that there's another one that will have to be made in the not too distant future, but it feels really good to have this one finished; we're all really proud of it."
In the meantime, the band are going to want to get as much rest as possible before embarking on their actually-pretty-huge upcoming 2014 tour, which runs from January to April.
One thing that is for sure is that no one's wife is having a baby in early 2014, with a statement from Charlie Starr on their website saying this: "The only time we stop or take any time off is when someone's wife has a baby. So, we've had to come up with a fictitious band member whose fictitious wife is having a fictitious baby."
I guess no fictitious band member's fictitious wife is having a fictitious baby, either.