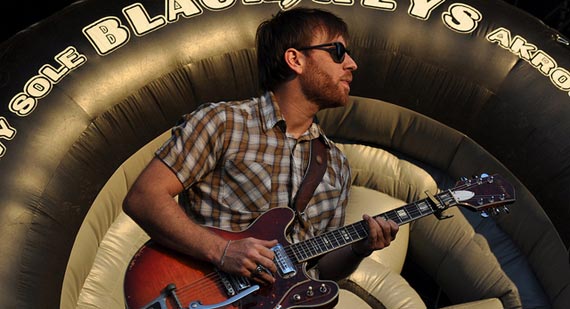 Mark Runyon | ConcertTour.org
Black Keys Grab Arctic Monkeys for Spring Arena Tour
Getting ready to release a seventh studio album, El Camino, next Tuesday, the Black Keys have announced a North American tour commencing next spring. The Akron, Ohio garage rock duo will play throughout North America during March after an extensive tour of Europe in the winter months of the year.
The tour will kick off on March 2 in Cincinnati and continue through March 23 in Norfolk, Va. In between, the tour will hit Boston, Washington D.C., Toronto and New York, among others.
The band will begin its promotion of the new album this Saturday with an appearance as the musical guest on Saturday Night Live. Steve Buscemi will be the host that night. The group also will appear at the annual KROQ Almost Acoustic Christmas show in Los Angeles on December 12. The European shows start January 23 in Antwerp, Belgium.
El Camino is produced by Gnarls Barley member Danger Mouse, who also co-produced the group's previous album, Brothers. That album went on to win the 2011 Grammy award for Best Alternative Music Album and sell over 500,000 copies.
El Camino was recorded in singer/guitarist Dan Auerbach's Nashville studio, Easy Eye. The album was preceded by the single "Lonely Boy," which was released on October 26, 2011. According to a statement by Auerbach, the rest of the album will be a continuation of the group's garage and blues based brand of rock, much like "Lonely Boy."
The Black Keys formed in 2001 and released a debut album, The Big Come Up, the following year. They were seen as part of the garage rock revival movement of the early 2000s along with the Strokes and the White Stripes, among many others, but didn't find more mainstream success later in the decade, and most specifically with the release of Brothers. Thus far, the band has sold over 2 million records