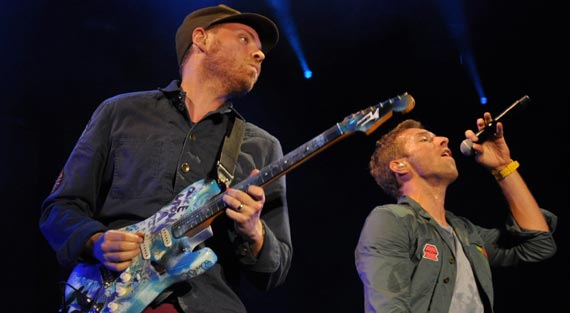 Mark Runyon | ConcertTour.org
Biggest Musicians Yet To Play The Super Bowl
With Madonna's spectacle last year pulling in over 114 million viewers, an incredible three million more than the actual game itself, the Super Bowl half-time show has become an integral part of the NFL's biggest day. Initially restricted to marching bands, with the odd appearance from Ella Fitzgerald and Chubby Checker, the concept of the game day performance was revolutionized in the 1990s thanks to sets from legends such as Michael Jackson and Diana Ross. Since then, icons like U2, The Rolling Stones and Paul McCartney have graced the on-pitch stage in addition to today's dominant chart acts including The Black Eyed Peas and of course, Janet Jackson and Justin Timberlake. But there are still many superstars who have yet to play their part in such a musical extravaganza. As Beyonce prepares to shake her groove thang in this year's festivities, here's a look at a few artists who are possibly on the waiting list.
Bon Jovi
It seems remarkable that one of the world's biggest rock groups over the last 30 years hasn't already been invited. Especially considering Jon Bon Jovi has several connections with the game, having owned Arena Football team (Philadelphia Soul) and expressed an interest in buying 15% of the Atlanta Falcons a couple years back. But perhaps the band responsible for such stadium-ready fare as "Livin' On A Prayer" and "It's My Life" are being saved for the New Jersey game in 2014, especially as the state's most celebrated musician, Bruce Springsteen, headlined back in 2009.
Lady Gaga
Lady Gaga has only been on the pop scene since 2009 so her time will surely come, although she might want to wait a few years if she wants to avoid even more comparisons with Madonna. Never knowingly understated, her recent Born This Way Ball tour has upped the ante when it comes to the big epic production, and despite only two studio albums to her name, she already has more than enough anthems to keep the crowd entertained.
Coldplay
Once labelled 'indie bedwetters' by Creation boss Alan McGee, Coldplay have since grown in stature to become the biggest stadium rock act of the 21st Century. With Viva La Vida's military uniforms, Mylo Xyloto's day-glo colour scheme and flashing LED wristband stunt, they've become a much more visual live act in recent years, while they impressively managed to sustain audiences' attention for pretty much the whole of the Paralympics Closing Ceremony.
Foo Fighters
Dave Grohl's Foo Fighters may have seen their anthemic 2005 single, "Best Of You," surprisingly covered by Prince during his 2007 Super Bowl set, but have not yet had the opportunity to perform the track at such an event themselves. One of the few hard rock bands with universal appeal, the likes of "The Pretender" and "All My Life" could give the half-time show the kick up the backside it occasionally needs.
Rihanna
Having almost upstaged Coldplay during her guest appearance slot at the London 2012 Paralympics Closing Ceremony, Rihanna has form when it comes to sporting events on a grand scale. Undeniably the most bankable hit-maker of the last decade, the likes of "We Found Love" and "Only Girl In The World" are just the kind of HI-NRG anthems the show needs, while there's every chance she'd call upon at least a couple of her previous collaborators to raise the roof in style.
Eminem
Perhaps his chainsaw-wielding antics at the start of his career scared off the organizers, but now that he appears to have mellowed, it appears a no-brainer that Eminem, will at some point, lend his talents to the Super Bowl. Of course, the enfant terrible of US rap will always remain an unpredictable figure, but perhaps amidst the safe choices of The Who and Tom Petty, the spectacle could benefit from embracing an artist likely to keep viewers on the edge of their seats.
Queen
The Super Bowl's half-time reinvention came a little too late to display the genius of Freddie Mercury. But Adam Lambert's well-received temporary stint as his replacement proves that with the right frontman, Queen can still pack the necessary punch. "We Are The Champions," "We Will Rock You," "Don't Stop Me Now," the rock legends' back catalog is crammed full of stadium sing-along favorites that just begging to be belted out at such an occasion.
Justin Bieber/One Direction
A controversial inclusion perhaps, but there's no denying that tween favorites Justin Bieber and One Direction have created the kind of hysteria that hadn't been seen since the era of The Beatles. It's unlikely that either act would be able to command the stage on their own, nor they would be most red-blooded males' first choice of half-time entertainment, but in marketing terms, they would undoubtedly help introduce the sport to a much younger female-oriented crowd.
Taylor Swift/ Lady Antebellum
The all-star line-up of Clint Black, Tanya Tucker, Travis Tritt and The Judds were responsible for one of the first reincarnations of the half-time show. But since then, only Shania Twain in 2002 has represented the field of country music. Still very much at the early stage of their careers, Taylor Swift and Lady Antebellum might not be as experienced as most of the Super Bowl's big-hitters, but together, they possess the ability to showcase what contemporary country-pop is all about.