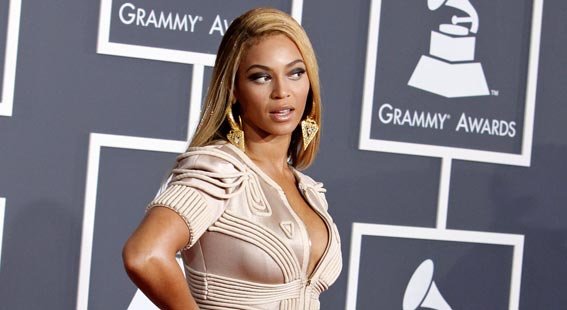 Joe Seer | Shutterstock
Beyonce Brings Sexy Back to Super Bowl Halftime Show
Your entertainment for next year's Super Bowl halftime show: Beyonce.
The AP broke the story yesterday by quoting an anonymous source saying Beyonce would perform at the game next February, and Beyonce then confirmed the news by posting a photo of herself on her blog wearing eyeblack with the words Feb 3, 2013, which is the date of Super Bowl XLVII.
Here's how the AP put it before Beyonce made the announcement official:
A source familiar with the Super Bowl told The Associated Press the Grammy-winning diva will take the stage at the halftime show on Feb. 3, 2013, at the Mercedes-Benz Superdome in New Orleans. The source spoke on condition of anonymity because that person wasn't authorized to publicly reveal the information.
The NFL also confirmed the news with a tweet yesterday.
"Beyonce will perform @pepsi #SB47 Halftime Show in New Orleans. Feb. 3, 2013 on @cbs," wrote the National Football League on its Twitter account.
Of course, the Super Bowl Half Time show has been surrounded by controversy since Janet Jackson's infamous "wardrobe malfunction" when she was performing with Justin Timberlake at the 2004 Super Bowl.
For the rest of the decade following the incident, the Super Bowl Half Time show featured classic rock acts like the Rolling Stones, Tom Petty and Bruce Springsteen rather than younger pop performers, though the Black Eyed Peas changed this trend with their performance in 2011. Earlier this year there was more controversy as M.I.A. flipped off the camera during her appearance at the show as a guest of Madonna. Nicki Minaj and LMFAO also performed during this year's show.
Though she has not performed during a Half Time show, Beyonce has appeared at a Super Bowl before. She sang the national anthem at the 2004 Super Bowl, which was held in her hometown of Houston.