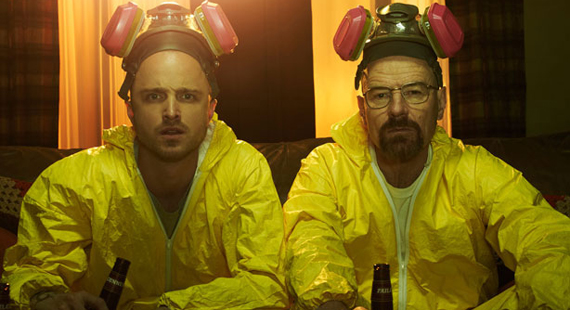 AMC
Best Songs Featured in Breaking Bad
While many shows on television are vanilla enough to simply feature this month's most popular indie-rock act, a show with as much depth and harrowing tension as Breaking Bad deserves a lot more. And it receives such detail courtesy of show runner Vince Gilligan, who along with composer Dave Porter has a key hand in crafting the sounds featured throughout Breaking Bad, both in its original compositions and soundtrack additions. Typically, every episode up to season five featured at least one song from a contributing artist, with the exception of "Crawl Space", the tense 11th episode of season four, when Walter realizes his hidden money is gone and he won't be able to disappear without a trace after all. That trend continued in season 5, where 5 of the 8 episodes did not feature music apart from Porter's stark, desert-themed compositions. What to expect music-wise in Breaking Bad's new and final season, premiering tomorrow night, is unknown – like the plot itself. Gilligan is likely pushing the songs in the background as the tension will be enough, but you never know.
In preparation for Breaking Bad's final eight episodes, it's worth noting several songs that made an impression in past seasons, both because they're great tunes and they fit so well in whichever Breaking Bad episode they were featured on:
"Any Way the Wind Blows" by J.J. Cale
Grammy-winning singer/songwriter J.J. Cale was a perfect fit in the season two premiere, his track "Any Way the Wind Blows" arguably serving as a microcosm of the relationship between Walter White and his then-antagonist Tuco. The episode ends with Tuco issuing Walter an order, and Walter obliging, his nonchalant demeanor a ploy for later vengeance. "Well, your motor won't make it and your motor won't move," Cale sings at the track's conclusion. "Easy come, easy go, any way the wind blows." It's a track that perfectly describes Walter's ice cold veins, a daring attribute that is a primary reason for his reign as a meth kingpin.
"Negro y Azul: The Ballad of Heisenberg" by Los Cuates de Sinaloa
"Negro y Azul: The Ballad of Heisenberg" is a song written specifically for Breaking Bad. It's an example of narcocorrido, Mexican music based in danceable polka and mariachi that focuses lyrically on drug smugglers. Some have called it the Mexican version of gangster rap. It sounds like a perfect Breaking Bad inclusion as a result. "Negro y Azul: The Ballad of Heisenberg" tells of "Heisenberg" (Walter) and his legendary "blue meth" as it crosses the border into Mexico. "Who owns the market now, no one knows the man," the trio sings, referencing the elusive standing of Walter's kingpin status. It's another excellently apt inclusion for the show's soundtrack.
"Who's Gonna Save My Soul" by Gnarls Barkley
Stylish hip-pop duo Gnarls Barkley's "Who's Gonna Save My Soul" makes an apt appearance in Breaking Bad, with both its lyrical themes of immorality and regret and its somber slow-moving approach aligning with the consequences of Walter's power-hungry drive. Appearing in the season two finale, "Who's Gonna Save My Soul" features Cee-Lo Green's whimpering vocals crooning lines like "Still my hunger turns to greed, 'cause what about what I need? / And oh, who's gonna save my soul now?" It's a question that Walter has asked himself more than one time, though it's never a halting point; he treads along, as if ambition is alone to save his soul – or at least a potentially re-occurring bout with cancer.
"Crystal Blue Persuasion" by Tommy James and the Shondells
Who could forget that memorable montage in episode 8 of season 5, where the production of Walter's blue meth is shown quite with stylish vigor? Credit a lot of the suave feel to "Crystal Blue Persuasion", performed by Tommy James and the Shondells. Even though the lyrics in the song actually refer to the "crystal blue" lake in the Book of Revelation, it fits nicely here nonetheless for obvious reasons. "Crystal blue persuasion, mm-hmm, it's a new vibration," James sings in this oldie. It's better to pretend that it has to do with meth than some lake in the bible, and Breaking Bad helps that image remain supplanted in viewers' memories.