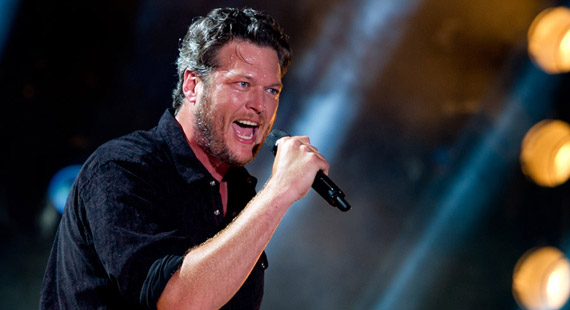 Mark Runyon | ConcertTour.org
Best Covers Recorded By Blake Shelton
A judge on the TV talent shows Nashville Star, Clash Of The Choirs and The Voice, country singer Blake Shelton knows a thing or two about interpreting other artists' songs having recorded a number of cover versions since emerging on the scene in 2001. Here's a look at ten of his best.
Footloose
One of the most iconic film themes of the early 80s, tackling Kenny Loggins' classic guilty pleasure for the 2011 remake of Footloose was always going to be a near-impossible task. Shelton's countrified rendition isn't quite as anthemic as the 1983 US No.1, but it's a valiant attempt to put a Nashville spin on the concept of kicking off one's Sunday shoes.
I Won't Back Down
The duets between the contestants and their mentors don't always work on The Voice. But first season runner-up Dia Frampton's indie-pop vocals worked surprisingly well with Shelton's country twang on their straight-forward feel-good performance of Tom Petty's radio staple, "I Won't Back Down." So much so that the pair regularly reprized their collaboration during Shelton's Well Lit & Amplified tour.
Steve McQueen
Criminally ignored on its release in 2002, although it did later win a Grammy Award for Best Female Rock Vocal Performance, one of the more under-rated singles in Sheryl Crow's back catalog was given a new lease of life after Shelton performed a rollicking version of the ode to the classic Hollywood star with eventual winner Cassadee Pope in the season 3 finale of The Voice.
Jingle Bell Rock
Notable for being the only duet with wife Miranda Lambert to chart on the US Country Songs Top 40, one of the highlights from Shelton's 2012 festive album, Cheers, It's Christmas, is imbued with so much infectious Christmas spirit that even the most miserly of Scrooges would find it impossible to resist.
She Don't Love Me
Initially recorded under the title of "She Don't Love Me (She Don't Hate Me)" by Billy Ray Cyrus on 2003's Time Flies, this regretful break-up anthem was also covered by Trent Willmon a year later before Shelton recorded arguably the definitive version on 2007's Pure BS.
Cotton Pickin' Time
Another track which has been around the mill a few times, "Cotton Pickin' Time" was a minor hit for The Marcy Brothers in 1989 and was later reworked by Gary Allan on 2001's Alright Guy. But Shelton's toe-tapping rip-roaring treatment resulted in the most hoedown-friendly version on the standout from 2004's Blake Shelton's Barn & Grill.
Goodbye Time
The fourth Top 10 hit of his career, "Goodbye Time" is undoubtedly one of the more sombre ballads in Shelton's canon. Originally intended for Reba McEntire but then given to country legend Conway Twitty for 1988's Still In Your Dreams because of its 'too close to the bone' lyrics about divorce, Shelton tackled its themes of heartbreak with such aplomb that writer Roger Murrah described it as the ultimate version.
'Ol Red
The unusual tale of a convict who murdered a love rival in a crime of passion and his inspired plan to escape to freedom by throwing the prison dog off the scent, "Ol Red" was recorded by George Jones for 1990's You Oughta Be Here With Me and later Kenny Rogers on 1993's If Only My Heart Had A Voice. But Shelton propelled it into the mainstream by releasing it as the third single from his 2002 self-titled debut, and although it failed to make the Top 10, it's still considered one of his signature hits.
God Gave Me You
Originally recorded by contemporary Christian artist Dave Barnes on 2010's What We Want, What We Get, Shelton decided to put a more sheen on "God Gave Me You" a year later for his first ever Billboard Top 200 number one LP, Red River Blue. Unashamedly soppy it may be, but considering the original inspired him to propose to his then-girlfriend Lambert, you can forgive the unadulterated schmaltz.
Home
The fourth country chart-topper of his career, "Home" might not exactly the most radical reworking of Shelton's career. But his faithful version of Michael Buble's longing easy-listening ballad is just as emotive as the original, while the yuletide re-recording alongside the Canadian crooner himself is arguably the highlight from Cheers, It's Christmas.