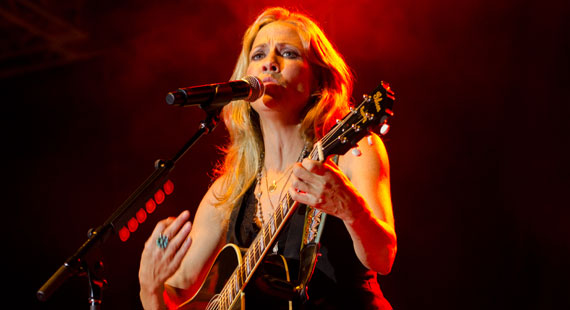 Mark Runyon | ConcertTour.org
Beale Street Festival 2013 Rumors: Black Keys, Flaming Lips, Sheryl Crow
Updated February 28 10:34am – The projected line-up was dead on. Add to the mix Gavin DeGraw, AWOLNation, Three Days Grace and you've got the complete picture.
The Beale Street Music Festival has been held in Memphis for nearly 40 years. And for just as long, fans have speculated on the lineup before official announcements are made, and this year is no different, though we have a little more to go on than in years past because of the festival's social media presence.
Last year, the festival's Facebook page began "liking" the performers that would appear at the event in advance of the announcement of the official lineup. And the same thing has happened this year, and assuming this is an indication of the lineup it should be very strong, and will include Black Keys, Flaming Lips and Sheryl Crow.
Here's the full list of artists that have been "liked" so far: Phoenix, The Black Crowes, Bassnectar, ZZ Top, Alice in Chains, Mavis Staples, Smashing Pumpkins, Patti Smith, Jerry Lee Lewis, Public Enemy, Hall & Oates, The Wallflowers, Deftones, Cracker, Papa Roach, Edward Sharpe & the Magnetic Zeros, Gary Clark, Jr., Dwight Yoakam, Lucero, Charles Bradley, The Joy Formidable, Deer Tick, Vintage Trouble and Yngwie Malmsteen.
What we do know for sure is that this year will celebrate the 37th anniversary of the event, and will be held May 3-5 at Tom Lee Park in Memphis.
Of course, organizers of the event won't confirm that the "Likes" on Facebook represent the lineup, but that could be because they are not allowed to do so by contractual agreement.
"We have a great social media presence. We manage three pages for Memphis in May and have well over 100,000 fans from all over," said Memphis in May executive vice president Diane Hampton when asked about the Facebook acts by The Commercial Appeal. "It's a very active page and we like a lot of music. Other than that, I really don't have any specific comment."
Hampton does say that she thinks the speculation is a positive thing.
"Speculating about a lineup is part of the new social craze for festival fans," she continued. "Looking at who's playing where and when and surmising they're coming to this festival or that festival… that's all part of the social interaction. I think it's good for us, good for festivals in general."
Memphis in May is a month-long festival that also includes a barbeque contest, classical music night and an international week in the city in addition to the rock music festival.