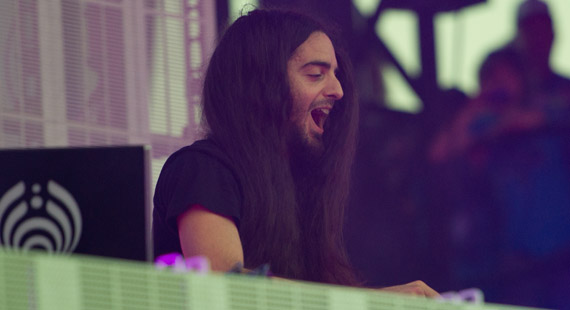 Joseph August / Shutterstock
Bassnectar Fills Out the Fall with Concert Dates
Bassnectar previously had a handful of festival dates scheduled in North America and Europe throughout August and September, but now the band has announced a full-on headlining tour following those dates that will last into November.
The new dates will kick off September 27 at the Greensboro Coliseum in Greensboro, N.C. and is scheduled to run through November 17-18 when the band undertakes a two-night residency at Terminal 5 in New York City. In between those dates, the group will hit most regions of the U.S. and Canada, with dates in Baton Rouge; St. Louis; Los Angeles, San Francisco; Vancouver; Fargo; Pittsburgh and Detroit, among others.
Gramatik will provide support throughout the tour, and the band has announced some special guests along the way. Ghostland Observatory will be performing at the San Francisco gig, while Zedd will join Bassnectar in Minneapolis. The band also says that Dave Nada & Griz will be along for the ride on select dates, and that more guests will be announced soon.
The St. Louis show will be Bass Center VII, and will continue the band's tradition of regional gatherings. There will be a "stacked bill of special guests including Zeds Dead, as well as the usual shenanigans and mayhem of our regional gatherings." The group is expecting around 10,000 people to attend this show.
"We're bringing a touring roadshow like never before!" is how the band describes the upcoming jaunt on its website. "Hide yer kids, hide yer wife; we'll be stampeding through the [tour dates] with no brain left unmelted."
The band will release Freestyle Mixtape soon, which includes "tons of new material, gallons of classic material, and as many re-invented versions & new combinations of your favorite sounds as we can squeeze together!"
Bassnectar's most recent studio album, Vava Voom, was released in April.