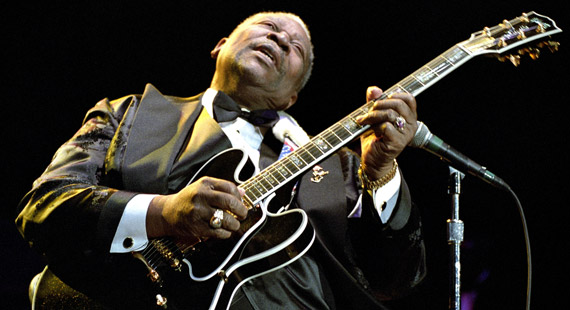 TDC Photography | Shutterstock
B.B. King Kicks Off Spring Tour on New Years Eve
Blues legend B.B. King will kick off a new tour on New Year's Eve that will keep the 87-year-old on the road in North America throughout the majority of the first quarter of next year.
King will ring in 2013 at the Broward Center for the Performing Arts in Fort Lauderdale, Florida on December 31, and will stay on the road until a gig at the Gold Strike Casino in Tunica, Mississippi on April 27, 2013. In between, King will bring his famous Gibson Lucille to Orlando, Houston, Dallas, Baton Rouge, New Orleans, New York, Nashville and many other cities around the continent.
In other King news, a documentary about his life entitled "The Life of Riley" was released in October. The DVD follows the life and music of King, born Riley B. King in Mississippi in September 1925. The film is narrated by Morgan Freeman and features tributes by Aaron Neville, Buddy Guy, Dr. John, Bobby Bland and many more.
Those on the DVD assert that King's playing is so unique that you can tell his sound by "one note." The Rolling Stones' Bill Wyman says that King once tried to teach him that signature trill sound, and even let him try it out on Lucille herself.
"Buggered if I could do it," is how Wyman sums up his efforts.
King's most recent album is One Kind Favor, which was produced by T-Bone Burnett and released in August 2008. The album features a slew of traditional blues numbers by writers like Blind Lemon Jefferson, Lonnie Johnson, John Lee Hooker, Big Bill Broonzy and Chester Burnett, better known as Howlin' Wolf. The album is the 24th solo studio album King has released throughout his long career.
The following year, the album was honored with the Best Traditional Blues Album award at the 51st Grammy Awards.