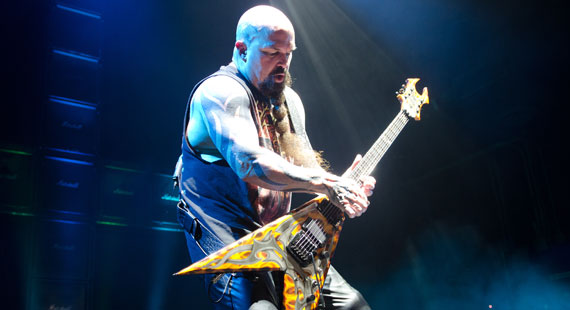 Mark Runyon | ConcertTour.org
Austin's Fun Fun Fun Fest Features Slayer, MGMT, Snoop Lion
While Austin City Limits Music Festival and SXSW often get more notice, the Fun Fun Fun Fest has offered a consistently strong festival in Austin for nearly a decade now. This year's event should be no different, with MGMT, Slayer and Snoop Lion among the headliners.
The eighth annual event will be held at Auditorium Shores in the Texas capital on November 8-10. Other notable acts include MIA, Jurassic 5, Descendents, Johnny Marr, Bill Callahan, Television, Ice-T and the Black Flag reunion group (of sorts) FLAG.
Acts will perform on three different stages — Orange Stage, Black Stage and Blue Stage. The three all feature headlining acts, but seem to be divided fairly distinctly between indie rock, hip hop and punk/metal genre lines. The event also will feature comedians and an action sports program. More information on those two specialities will be released at a later date.
"Pound for pound, this is probably our most powerful line up in our 8-year history," said James Moody, co-owner of FFF, in a statement. "We are staying true to our roots, while still pushing the limit on new ideas, discoveries and experiences for our fans… and we haven't even announced comedy and skate/ride yet… so we are excited."
Earlybird tickets have sold out, and regular priced three-day passes are on sale now. Single day tickets will be available next month.
Fun Fun Fun calls itself the "darling of independent festivals for music lovers and music makers in the United States," and organizers say it is "custom booked for the most passionate, underground, and progressive musicians, comedians and fans around the world."
In addition to the regularly scheduled artists, the festival works with Austin venues to put on FFF Nites. Weekend passes provide entry into the venues and single day passes grant entry for that day, however venues are first-come, first-served.