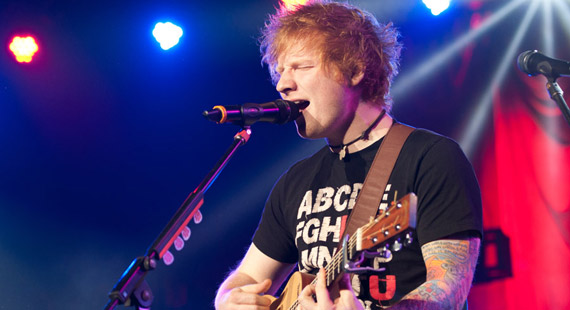 Mark Runyon | ConcertTour.org
Are Tour Mates Ed Sheeran, Taylor Swift Dating?
It's time for the Taylor Swift dating-world rumor mill to start up again, with reports stating that the she has been getting cozy with her future tour mate, singer-songwriter Ed Sheeran.
Well, really the reports just say that the two spent "most of the evening" together in a hotel room before the Brit Awards recently. But the Sun quotes an anonymous source saying the two are more than good friends.
"Taylor's always loved Ed to bits, he's just an adorably sweet guy who makes her laugh and feel really confident whenever they're together," said the source. "Yes, Harry [Styles] had that irresistible bad boy thing, but Taylor's realized she'd rather give it a go with a guy who makes her laugh. She made it very clear that when they go off on their tour she wants him to be her boyfriend. He's thrilled because he's always thought she's amazing."
So really, who knows. What we do know is that the two are heading out on a massive North American tour together in less than two weeks. So they'll likely be spending a good bit of time together whether they want to or not.
The tour kicks off with a two-night stand in Omaha on March 13-14, and Swift will stay on the road through the end of September, when she will play a three-night stint at the Bridgestone Arena in Nashville.
The tour will support her most recent album, Red, which came out last year. Sheeran and Swift duet on the song "Everything Has Changed" from the album, and the two singer-songwriters co-wrote the song together, as well.
Red sold 1.2 million copies during its first week of release, becoming the fastest-selling album in a decade. The record also marked her third consecutive album to spend six weeks at the number one spot on the Billboard 200 albums chart.