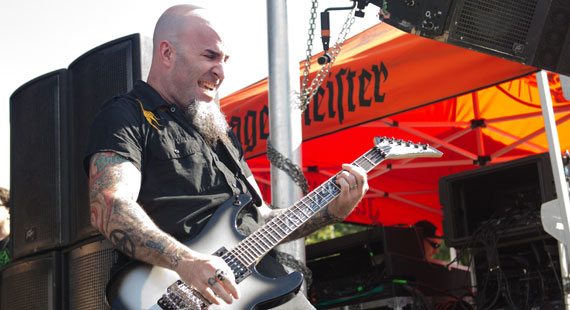 Mark Runyon | ConcertTour.org
Anthrax Joins With Exodus, High On Fire for Metal Alliance Tour
Anthrax, Exodus and High on Fire will be among the bands that hit the road this spring for the third incarnation of the Metal Alliance Tour.
This year's version of the event will kick off at the house of Blues in Las Vegas on March 23, and the band's will stay on the road until an April 20 show at Irving Plaza in New York. In between, the groups will visit cities including Tempe, Ariz.; West Hollywood, California; Portland, Oregon; Denver; Chicago; Dallas; Lake Buena Vista, Florida and Silver Spring, Maryland.
Municipal Waste and Holy Grail also will be on the tour, and the tour's official website says additional bands will be announced before the trek begins.
During the tour, Anthrax will perform its classic 1987 album Among the Living in its entirety every night.
"This is such a perfect lineup," said Anthrax guitarist Scott Ian in a statement. "To make this tour even more special, we will be playing our Among the Living record in its entirety. I can't wait to play 'Horror of it All'!"
I'm assuming when he says the "perfect lineup" he's talking about the tour lineup and not that of his band, since it is reported that lead guitarist Rob Caggiano recently left the group. A replacement has not yet been named.
Tour organizer Dan Rozenblum doesn't seem to be concerned, however.
"Anthrax has always been one of my favorite bands, and to have them be part of our tour is beyond expression," he said. "This is surely going to be one for the history books!"
Ryan Waste, guitarist for Municipal Waste says he feels the same and can't wait to get on the road.
"I grew up listening to Anthrax and Exodus and they inspired me to start playing speed metal from the beginning," he said. "I'm thrilled to hit the road and rip it up along-side some of the most influential 'bangers of our time!'"