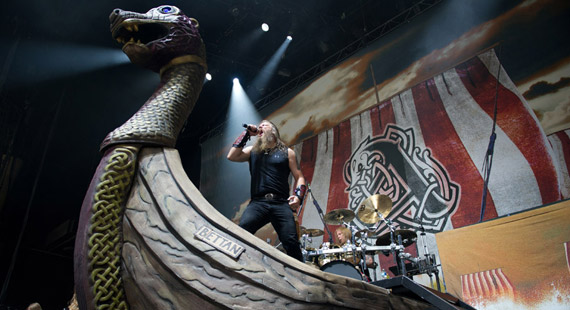 Mark Runyon | ConcertTour.org
Amon Amarth, Enslaved, Skeletonwitch Set to Rock 2014
Iconic death metallers, Amon Amarth, have just unveiled a new North American month-long tour due to kick off early next year.
The tour is set to begin at Las Vegas' House of Blues on January 17th, and will see the band play shows in Phoenix, Dallas, Atlanta, Tampa, Boston, Philadelphia, New York, Chicago, Los Angeles, among others, before finishing up at San Diego's House of Blues on February 16th.
If you're feeling romantically angry, they'll also be playing a show on Valentine's Day in San Francisco too.
Fans can expect to hear tracks from the band's most recent album, Deceiver Of The Gods, released in June, as well as, I imagine, a smattering of classics from the band's 21-year career.
Norwegian black metal overlords Enslaved will play support duties across the tour (with the exception of the final show in San Diego), and are expected to play material from their most recent effort, RIITIIR, released last year.
Further support is set to come from the brilliantly-named Skeletonwitch (this time with the exception of the show in Orlando on January 27th), who are due to release their fifth full-length album, Serpents Unleashed, on October 29th of this year, so attendees can get in a bit of listening before seeing the thrash metallers live.
Johan Hegg, the band's vocalist/lead Viking, had this to say about their new tour announcement:
"After our successful part of the Rockstar Mayhem Festival this summer, it is with great confidence we'll be heading back to North America as the headliner in January. We are proud and happy to announce that our friends in Enslaved and Skeletonwitch will be supporting us on this raid and pillage tour across the continent! Come and join us for all the fun of a real metal show! WE. SHALL. DESTROY!"
We have no doubt, Johan, that you shall.