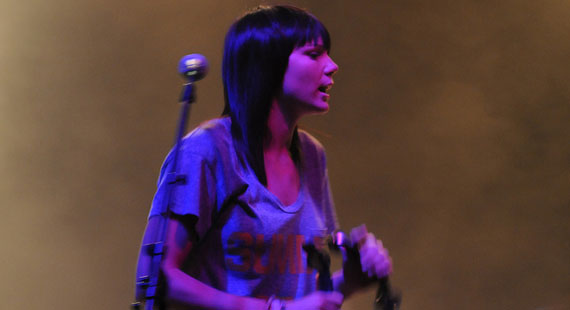 Mark Runyon | ConcertTour.org
Album Review: Scars on 45 'Self-Titled'
Scars on 45 is an English rock outfit with their sights set on the coveted crown of agreeable, pleasant rock, in the vein of Coldplay or Travis. They have released a pair of EPs over the past couple of years, and their self-titled debut has been eagerly anticipated by many who want to see just how far the group can go.
The band has great energy and superb production, but there is no escaping that they have tended towards safe music, and this is a very safe record. Songs go for the quick and sure path to the listener's heartstrings, using well established tricks of the trade from the past 20 years of radio-friendly rock. It's an album of one power ballad after another, however, they're good power ballads, and these guys seem to know exactly what they are doing.
Listening to the record for the first time it was immediately evident to me that most, if not all of the songs, were written with the ingredients for success not necessarily on the radio, but through television. I suppose that's an inherent quality of very safe and pleasant tunes in this genre, but the songs of Scars on 45 are absolutely caked in made-for-tv melodrama and musical moments of revelation, perfect for a weepy primetime scene. No surprise then that the band has been featured on a huge selection of shows–CSI: New York, Grey's Anatomy, One Tree Hill, Pretty Little Liars, Supernatural, The Cleaner, and Warehouse 13–and they are signed to Chop Shop Records, the label of TV music supervisor Alex Patsavas. No Glee yet, but 'Warning Sign' just about begs for that treatment.
The band has also seen great success online with a strong social media campaign. They have gone beyond the typical level of engagement on Facebook and Twitter, and post their own performance videos on YouTube for their fans. Scars on 45 is very clearly a band that knows how to get noticed, and while in the past this might have been seen as a negative–that the band was selling out–it's really just smart, and has certainly become the norm in today's culture.
They're not just a marketing department, though, and as a band they should be given their due respect for their ability to write solid, catchy songs consistently. It's not easy to write a tune that will be heard by millions on television, and it's one of the most common ways that people discover new music these days.
Male and female vocalists Danny Bemrose and Aimee Driver sound great together. Danny's voice tends to take the lead when they sing together, which makes sense as Aimee was brought in to be a backup singer, but in the moments where she stands alone her soft and controlled voice stands out. Danny tends to sound a little less genuine, milking his words for every last drop of emotion.
The album features 10 songs and runs about 41 minutes. Not long, but long enough for a collection of songs that are ostensibly the same. Nothing really stands out on the record at all, but 'Heart On Fire' has proven itself as their biggest hit so far–though, it and three other tracks on this record are re-releases from their earlier EPs. A deluxe version of the Scars On 45 LP features four more of their previously released songs, bringing the song count up to 14–six of which are new.
Scars on 45 is a good band, and they've been able to execute this album and its marketing strategy pretty flawlessly. What remains to be seen is whether many people will feel a connection to songs that can seem a bit contrived or derivative. They certainly won't appeal to all tastes, but for those who like direct and familiar music, this is a band and an album worth checking out.