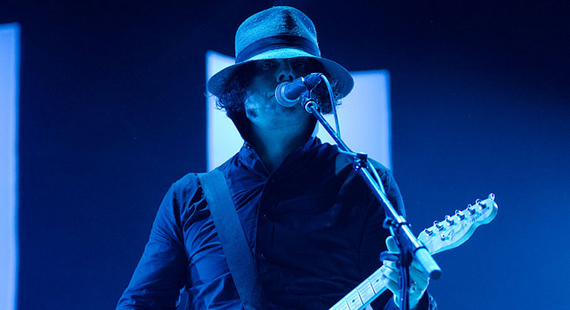 Mark Runyon | ConcertTour.org
Album Review: Jack White 'Blunderbuss'
Jack White is one of the best rock singers and guitarists in the world. Not because of any degree of technical skill, though he does have that by the gallon, but because he embodies the spirit of the music perfectly and knows just how to exploit the most indulgent cravings of your ear. It's simultaneously something which comes naturally to him, and a thing he works very, very hard at. Blunderbuss is an album of practiced steps for Jack to define himself as a solo artist.
It doesn't sound exactly like a White Stripes album, but it easily could be. No single track from this record would be out of place on any White Stripes release, but all together they seem to present a greater depth and musical maturity, which of course means that Jack White wants you to notice a greater depth and musical maturity. Not that this was ever in question, but it's interesting that it seems to be what he–a man who is very aware of, if not slightly obsessed with his image–wants people to take away from his debut solo release.
More than ever before, his sound is thick with a wide range of inspiration from eras past, heavily featuring jazz and blues, a refined and Appalachian peppering of country, and classic rock in a few dozen flavors. He's not just using these sounds, but showcasing them and creating a new, or updated, portfolio and image for himself.
It's a great transition for Jack, who is now 36 years old, into the role of a rock legend. He's still got bite, and he's still coming from the same place, but his appeal has broadened some. A bit of his aggression gives way here to more distilled and far-reaching methods of getting his points across.
On the other hand, 'Sixteen Saltines' is a destructive force. Jack White's hallmarks have been this sort of simple, hard-hitting rock, rife with unabashed and cocksure swagger. He isn't shying away from that at all; it's just one facet, and not strictly the focus this time around. The poetry of the title track is just as good, set against twangy, dreamy strings.
The drumming on 'Freedom At 21' is layered and textured, though regretfully some of it is too quiet to have a very strong impact. The album doesn't seem to have been mixed with drums and bass as much at the forefront as in the past. On the other hand, in regard to the mixing, there was a slightly jarring moment for me when Jack's voice was suddenly focusing solely on my left ear, and for me that was actually great, effectively creating the momentary impression that he was speaking to me directly. He has a bit of fun with production, to varying degrees of success.
It can be difficult to know exactly how seriously to take Jack White. He can sing a very tongue-in-cheek line in just the same way he would one he meant with every part of his soul, and he could probably use the exact same words in both cases. He remains something of an enigma–an undervalued trait in today's rock stars.
One of the more easily discernible subjects explored here is Jack's breakup with singer Karen Elson, but it doesn't seem to have been a bad parting, as Karen contributes backing vocals to several songs. 'Love Interruption' is absolutely gorgeous, due in no small part to the voice of Ruby Amanfu, which is an absolutely perfect stylistic match. Jack White's decision to heavily feature female vocals on his first solo record seems to make a lot of sense, all things considered.
Blunderbuss strikes a good mix of being both grand and subdued, as Jack finds and extrapolates the sounds and effects he needs, gently shoving them into different conventions without ever being conventional. He continues to strike a balance between style and substance, and as long as he keeps doing that, a rock legend he surely is.