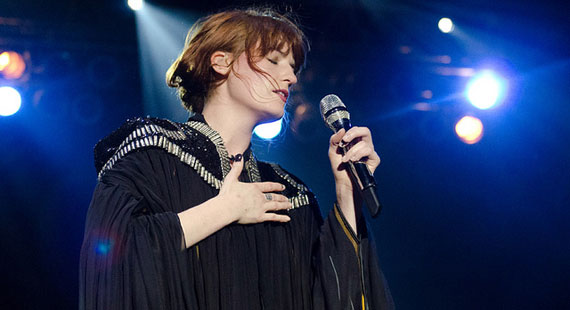 Mark Runyon | ConcertTour.org
Album Review: Florence + The Machine 'MTV Unplugged'
MTV Unplugged performances are often career highlights, and though one could say that the powers-that-be at MTV have become a wee bit less picky in recent years as far as who gets the Unplugged treatment, Florence + The Machine seems like a great choice.
Though, just because a band or an artist has a fantastic live act–which is certainly the case here–that does not necessarily mean that they will be every bit as great when stripped down. Unplugged is an exercise in restraint, so you don't expect songs to sound identical to their studio counterparts, and when I think of Florence + The Machine none of the words that spring to mind are synonymous with "restraint".
Florence Welch's singing style is famous because it is huge, and it probably should not be reined in on most songs. Neither should the music, every bit as bold and powerful in an attempt to match her voice. No less, that is exactly what they were tasked with accomplishing here.
'Dog Days Are Over' is a song that deserves to be belted out and milked for a good ten minutes, but it's over very quickly here, and she never really unloads on the chorus. This is among the better songs belonging to the human race, and it should be the climax of any performance, but it isn't–not quite. She is totally capable of doing it live, but for whatever reason she shies away from throwing herself all the way into her biggest tune.
Which is just about the only disappointing thing about this record.
'Drumming Song' works remarkably well without drums, as if setting out to prove just that. 'Breaking Down' is a beautiful and simple song, with a delicious piano melody which stands out against the rest of Florence + The Machine's catalog.
She covers Johnny Cash and June Carter on 'Jackson', with Josh Homme from Queens of the Stone Age taking on the role of the Man In Black. Flo does June nor country music a disservice, showing once again the breadth of her ability and just how well such a standout voice can fit into many different shapes.
She comes fairly close to what one wants and expects from 'Dog Days Are Over' on an earlier track, 'No Light, No Light'. Some of the musical oomph is removed for this performance, but nothing is lacking in her voice, which soars and carries the moment.
When bad singers do this they sound like they're shouting, and in certain live performances I have noticed that Florence Welch can seem to struggle with some of the big notes, as if it's just a little painful to reach those heights consistently. That clearly isn't the case here, and even though I felt like 'Dog Days' was a little underwhelming, she makes absolutely no mistakes. She is in nearly perfect form through all eleven performances on this release.
She is also very good in gentle moments, showing exceptional vocal control throughout her range, and this is a part of her ability which is very underrated. Her version of 'Try A Little Tenderness' comes close to being an acapella performance, and really showcases that point.
It's a really good album of songs, but all together they do start to bleed into each other a bit, which is likely a byproduct of the fact that reducing songs of this size to the bare essentials leaves very little room to play around. It's good, but with few exceptions it is not better than the studio recording, which is really what people want from an Unplugged album.