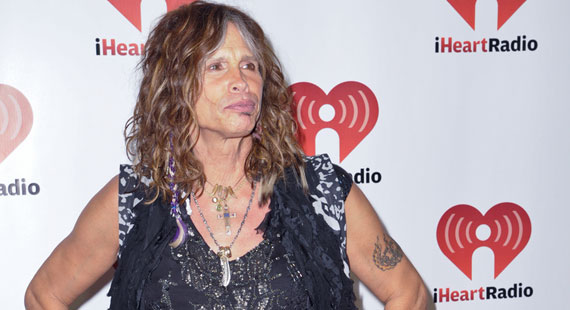 Amy Nichole Harris | Shutterstock
Aerosmith Resurrect Global Warming Tour with Fall Leg
Now that Steven Tyler is no longer a judge on "American Idol," it's freed up some of his time for Aerosmith, and the group will hit the road throughout most of November and December.
The band will play arenas around North America on the second leg of the "Global Warming Tour". The trek will kick off at the Chesapeake Energy Arena in Oklahoma City, Okla. on November 8 and is scheduled to run until a December 13 tour at the Bridgestone Arena in Nashville. Other cities the group will play include Wichita, Kan.; Kansas City, Mo.; Austin; New York; Atlantic City; Columbus, Ohio; Toronto; Las Vegas; Los Angeles; New Orleans; Fort Lauderdale and Tampa. All of the dates will feature support from Cheap Trick.
The tour will support the band's upcoming studio album, Music From Another Dimension, which is set to be released two days before the tour begins on November 6. The long-rumored record will be the 15th studio album by the band, and the group's first set of new material in 11 years.
Two singles – "What Could Have Been Love" and "Lover a Lot" – were released at the same time at the end of August. In total, the new album will contain 15 tracks, including "Oh Yeah" and "Legendary Child." The legendary band played both songs during the first leg of the "Global Warming Tour" earlier this year. The song "Freedom Fighter" features backing vocals from Johnny Depp.
"It's not that it took 10 years, but that we were busy getting ready," said Steven Tyler in a statement about the album.
"This is the album we wanted to make since the band got back together in 1984," said guitarist Joe Perry. "Can't complain about No. 1 singles or album-driven sold-out world tours, as we blaze the Aerosmith trail with our fans. But this is the record that when the five of us are in a room yelling, 'Turn up the volume!' That room could be 1325 Commonwealth Avenue."